What information should be on a
birth announcement card

?

Sending a birth announcement card is a tradition that is used to let friends and family know that your son or daughter is known. If you are expecting your first child it can be a bit of a puzzle what information should be on such a card. Of course, you also have enough other things to think about and don't want to spend too much time on it. Therefore, we have made a list of things to include on your birth announcement card, so you can quickly and easily make your own.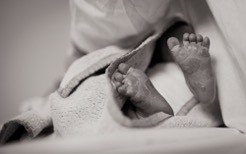 There is a lot of freedom for the information you put on your birth announcement card. But there are a few things that can't be excluded, such as:
Name of your babyYou start by mentioning the name of your son or daughter. This is probably something that you have kept a secret for a long time, and you can now finally announce!

Name of the parent(s), brothers and sisters
Add the names of the parent(s) to the birth announcement. Of course, it is useful for the people receiving the card to know who it's from. The names of any brothers and/or sisters of course can't be excluded, so add these to the card.

Gender
It might not be immediately clear whether the baby is a girl or a boy, for example, if the name is gender-neutral and the colors used on the card are also not the traditional pink or blue. In that case, including gender can be useful, to make buying a gift easier for your friends and family

Date of birth
Of course, this speaks for itself, but it is important to mention when the baby was born. The date of birth can be written multiple ways, such as with a dash (12-1-2022) or partially written out (12th of January 2022)

Contact information
Another important thing to include is your own contact information. People can use this information to congratulate you, send you a card, or come to visit.

Birth facts
Birth facts can make your birth announcement card slightly more original. You can think of the time of birth, or the length and weight of your baby.
Birth card ready? Click here to print them!