Stickermaterial
Every sticker has a different purpose and therefore a different finishing. For every sticker, we offer a variety in stickermaterial. With these stickermaterials, you can give your design the look that you have in mind.
Do you want to see and feel our paper- and stickermaterials at home? Order our free sample book here.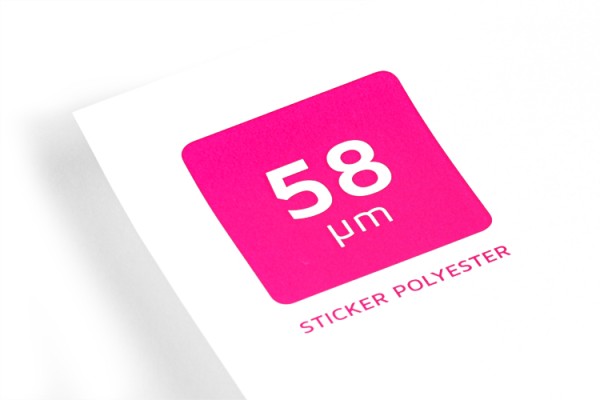 Stickers Polyester (58um)
Stickers can be printed on Poly-Master-Vinyl (PMV) and are resistant for outdoor use up to 1 to 2 years. The sticker paper is matte with a good color rendering. Due to the sturdy ultra-strong plastic material, the stickers are weather and (sea) water resistant, dirt-resistant (including oil), non-tearable and resistant to low and high temperatures. This makes the stickers very suitable for intensive use for indoors (such as warehouses) and outdoors. The PMV stickers have a BS5609 approval, which means that the adhesive strength of the sticker is so high that it can withstand two months of seawater!
Properties: Raflatac Polylaser matt white, 58um thick / 75 grams, 88% opacity, BS5609 approved.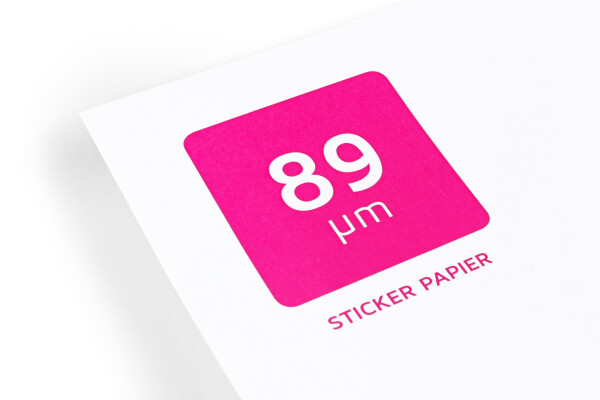 Stickervel papier (89um)
We also print stickers on white paper sticker material. The surface is matte and rough, similar to office paper. Ideal as a label for a wine / beer bottle. This sticker paper is not water resistant.
Environment: FSC Mix, recyclable permanent adhesive Greentac +
Properties: Raflatac Jetlaser matt white, 89um thick / 70 grams, 92% opacity,  ISO 9001 certified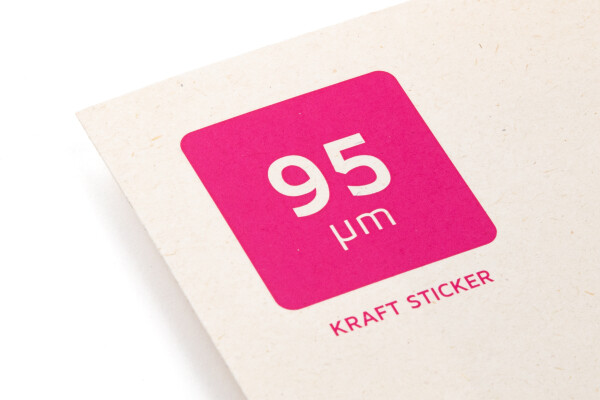 Sticker Kraft (95um)
Stickers are printed on biological Paperwise kraft paper. The sticker itself is made from agricultural waste and is compostable. Also, the adhesive of the sticker is fully compostable as well. Therefore the sticker is very environmental friendly. The sticker has a natural beige color. The fibers are slightly visible, but this is not disturbing and gives a contemporary character. The surface is matte and rough and is not water resistant.
Milieu: 100% made of agricultural waste, Biotak S100 permanent, compostable adhesive.
Eigenschappen: Paperwise paper, natural beige color,  55um thickness / 62 grams (incl. facestock 95um / 70 grams), non-bleached compostable.