Mounting material
Subtile and strong posters, panels and photo's presenting without any huzzle. Order here, easy and fast, your mounting material and let this be delivered directly with your order. The mounting material is easy to secure and is very discrete.
Document already done? Order now!
Stainless steel spacer
Luxury stainless steel spacer for indoor and outdoor use. The stainless steel spacer ensures that the wall distance is 15 mm. As a result, hanging a sign always looks neat and tidy. The spacer is suitable for a plate thickness of 2 to 11 mm. You order them per set of 4, including Phillips screws and plugs. So with 1 print run, you get 1 bag of 4 spacers. If you order these spacers in the board order form, we will make the drill holes (25 mm from the edge). If you don't want this, you can also order the spacers separately.
Metal mounting plate
This mounting plate allows you to quickly and easily hang up your sign thanks to the self-adhesive system. The mounting plate is suitable for indoor and outdoor use with a maximum load of 3kg. The size of this mounting plate is 70x70 mm. One set consists of one mounting plate, one screw (4x30 mm.), one nylon plug (6x30 mm.), one wall hook, two self-adhesive transparent spacers, one alcohol wipe and one instruction. So you can easily mount the mounting plate yourself.
The plate must remain under the pressure of a weight for 24 hours before hanging.
Suction cup spacer
Simple spacer with suction cup for mounting signs on smooth surfaces. This is only suitable for indoor use. The plate thickness should not exceed 8 mm. The suction cup is transparent and has a diameter of 50 mm. The plate is attached to the suction cup with a white plastic knurled nut. You order them per set of 4. So when ordering a set, you get a bag with 4 spacers and suction cups. If you order these spacers in the board order form, we will make the drill holes (25 mm from the edge). Don't want this? Then you can also order these spacers separately.
Poster strips
With these strips you can easily hang your poster flat against the wall. The strips have a clear top and bottom. There are 1 or 2 eyelets at the top, depending on the poster size, to hang it up. The poster can then easily be hung using a drawing pin or small nail. The strips are made of transparent plastic and are therefore not noticeable. They are also reusable.
Velcro circles
Hanging up posters or signs without damaging the wall. Velcro circles make it easy and quick to hang up a poster. Attach the velcro to the wall and the poster by the adhesive backing. The velcro circles are white and are available in 2 different sizes: ø16 mm or ø18 mm. You will receive 4 x the soft side and 4 x the hook. The rounds remain firmly in place and are not noticeable. So you do not need to use drawing pins or nails.
Wooden poster hanger
Hanging up your poster in a fun and playful way is easy with our wooden poster hangers. The hangers are available in A2, A1 and A0 size. The poster is easily attached between the wooden slats using magnets. This way, the poster hangers can also be reused. The slats are 20 mm and are placed over the poster. The poster is then easy to hang up using the natural-coloured cord.
Cardboard easel
Show a board or picture easily with our cardboard bases. The bases are easy to fold and attach via an adhesive strip. The cardboard easels have a folding pattern. This makes them easy to fold and very sturdy. The bases are suitable for products in a A5, A4, A3, A2, A1 size and everything in between.
It is important to order the correct easel format for the best stability. The rule for this is that half of the product must be taken and this is rounded up for the base format. For example, if an A4 board is ordered, you need to order a cardboard easel of 18 cm (297/2 = 148.5, round up).
Business card box
A transparent box that is perfect for your 55 x 85 mm business cards. You can easily close it and take it with you. It can also be used as a business card holder to be placed on, for example, counters, fairs and desks. Between 60 and 70 business cards fit in the business card box, depending on the paper type.
Name badge (pin + clip)
Transparent badge for insertion of a 55 x 85 mm business card. Equipped with a pin and clip for easy attachment. The badges can easily be re-used. The name badges are supplied in protective foil. Please note that we do not place the name cards inside the badges.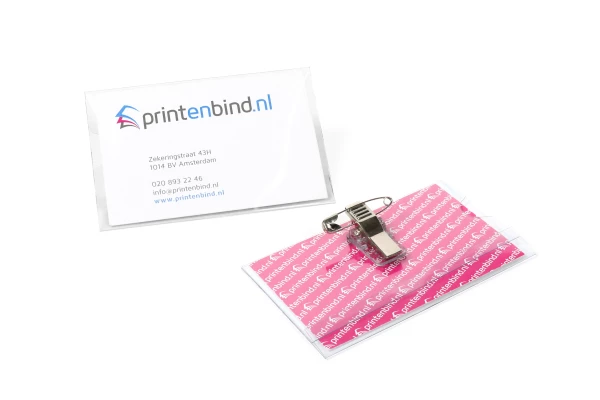 Fast delivery of assembly material
We deliver standard within two working days. Do you need the materials faster? Order them before 1:00 PM as urgent and receive them the next day! Pick-up is also possible. You can pick the material up at our location or at one of our Pick-up Points through Amsterdam.
Often ordered together with