Order
velcro rounds

online

Do you want to hang posters without showing how it is attached to the wall? This is possible with our white velcro rounds. Attach four velcro loops to the wall and in the corners of the poster. This way your poster will hang firmly on the wall, without people noticing the velcro rounds as the mounting material. No more nails or drawing pins needed!

Ordering our velcro rounds (including poster printing) can be done quickly online: within two business days you will have your entire order. Do you want to hang up your posters even faster? Order urgently before we deliver within one business day. Determine where and when we deliver your velcro rounds or where you want to pick them up.

Document already done? Order here directly
Order your velcro rounds low-priced and fast online
Order low-priced velcro rounds as mounting material for posters:
Velcro rounds are supplied as a set of four (4x the soft side and 4x the side with hooks).

Due to the standard 16 mm diameter of the velcro rounds, posters of all sizes can be securely attached to the wall.

The white color of the velcro rounds ensures that they are barely noticeable.

The velcro rounds have an adhesive back. So it's easy to hang posters!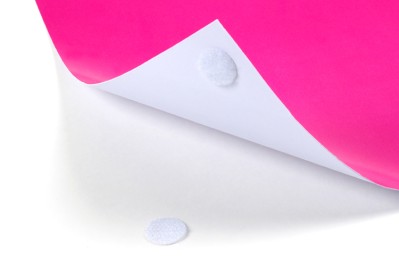 Print posters including velcro rounds
With the velcro rounds you can easily hang posters. Therefore, immediately print all your self designed posters. Ordering loose velcro rounds is also possible.
Fast delivery of velcro rounds
Need your velcro rounds quickly? We deliver within two business days by default and urgently within one business day. You decide how and where we deliver your velcro rounds (and posters). Pick them up in Amsterdam, have them delivered to your home or at a PostNL collection point.