Custom size word
Set up different sizes in Word
In 5 steps you can create your own chosen size for your Word document. Convert your Word document to PDF and print online!
Do you want to print your document in a particular size, but are you unable to design it? We have created templates for you in a number of sizes and covers https://www.printenbind.nl/en/submitting/templates. If the desired size is not listed here, you can use the very simple tool Canva.com. Templates are available on this website that you can personalize online.
If you want to create a custom size in Word, you can follow the steps below. You can personalize this file yourself and have it printed by us!
1. If Word is open, click at the 'tabs' (top) for 'Page setup / Page layout'.

2. In the 'Page setup' tab, select the 'Paper size / Size' option.

3. If 'Page size / Size' is clicked, choose more 'Paper sizes / More paper sizes' at the bottom of the list.
4. A 'Page settings / Page setup' pop-up window will appear, in which the size of the page can be adjusted.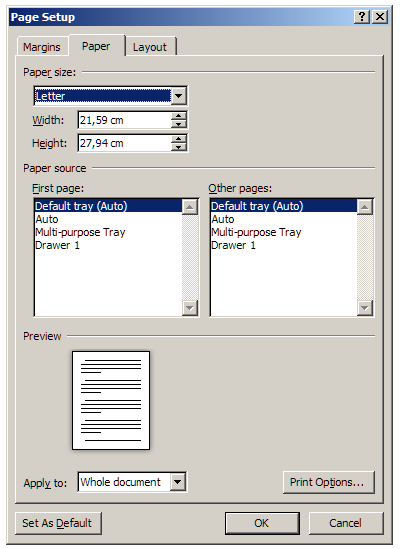 5. When the format has been changed, click on 'OK'. Do you want to convert your Word document to PDF? Read all about how to do this on this page.