Old Dutch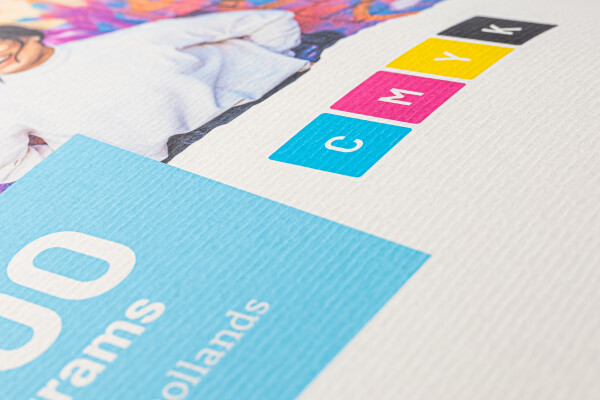 Our Old Dutch paper type has a warm white color and a visible line structure. This structure remains visible underneath the print work, giving prints on this paper a traditional appearance. Old Dutch is a perfect choice for printing special cards, certificates, and posters. With environmental certifications for the strengthening and control of environmental conservation, this paper is a sustainable choice.
Characteristics of Old Dutch paper
Below you can find an overview of the characteristics of Old Dutch paper.
| | | | | | | |
| --- | --- | --- | --- | --- | --- | --- |
| Paper type | Grams | Um | Writable | Color | Appearance | Environment |
| Old Dutch | 300 grams | 430 um | yes | warm white | structure, soft | FSC Mix C018501, woodfree ECF, ISO 14001 certified |
Technical specifications of our Old Dutch paper type: Conqueror Laid snow white 300 grams, coveted, print is waterproof, 100% opacity
What are the best finishing options for Old Dutch?
The structure of Old Dutch paper gives the paper a special look and feel. It is a strong paper type, making it suitable for different finishing options. Our customers often choose Old Dutch paper for folded products, such as wedding invitations. We add a crease to the paper that allows you to fold the paper without it tearing or breaking. We can cut this paper to any size larger than 60x80 mm and smaller than 310x440mm.
Product options for Old Dutch
Old Dutch is very suitable for printing all different types of cards, for example, wedding cards, business cards, greeting cards, menus, and funeral cards. Keep in mind that the structure of the paper will be visible in your print. Besides cards, this paper type is also a great option for book- and magazine covers.
Want to know more about the finishing options for Old Dutch paper?
Document ready? Order now!