Pearl luxury paper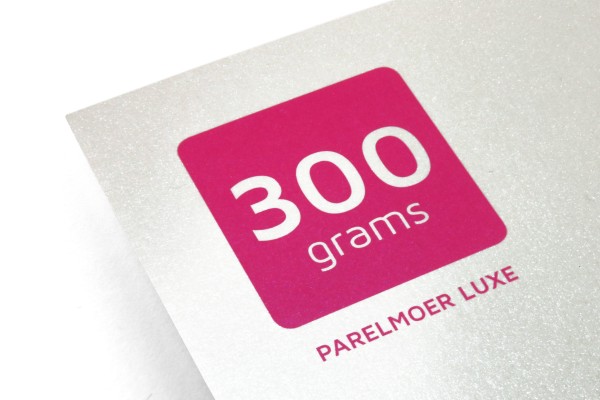 If you want to do something really different with your card or book cover, we recommend our Pearl luxury paper type. This unique paper type has a crystal white pearl effect that shimmers from all viewing points. As this effect is very visible, it will make your prints stand out for sure! In addition to being a beautiful paper type, it is also very strong and suitable for different finishing options.
Characteristics of Pearl Luxury paper
Below you can find an overview of the characteristics of Pearl Luxury paper.
| | | | | | |
| --- | --- | --- | --- | --- | --- |
| Paper type | Grams | Um | Writable | Appearance | Environment |
| Pearl Luxury | 300 grams | 414 um | yes | pearl effect | FSC Mix, woodfree ECF, ISO 14001 certified |
Technical specifications of our Pearl Luxury paper type: Curious Metallics 300 grams, silverwhite pearl effect, ISO 9706 (resistant against aging), print is waterproof, 98% opacity
Pearl Luxury for unique products
Pearl Luxury is very well suited for cards, business cards, invitations, and book covers. The paper is easy to write on and text printed on this paper is very legible. The pearl effect gives especially prints with color a very special effect.
Pearl Luxury as a card
The shimmer in this paper makes it a perfect option for cards such as wedding invitations. The pearl effect gives the cards a festive appearance. The sturdiness of the paper also makes it possible to add a crease to the paper so it can be folded without breaking or tearing. To make the cards even more special, adding round corners is a great option!
Want to know more about the finishing options for Pearl Luxury paper?
Document ready? Order now on Pearl Luxury paper!