Papiersoort extra stevig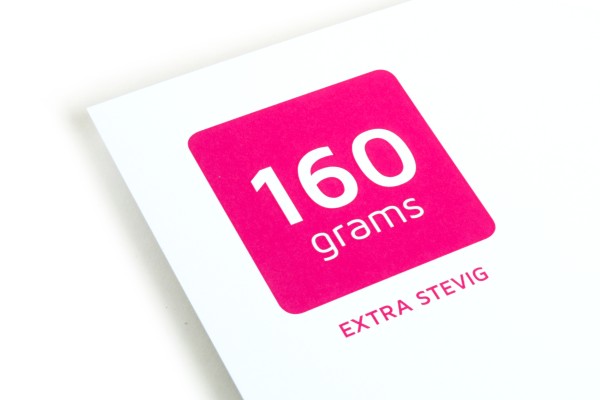 Of je nu flyers, brochures, portfolio's of boeken nodig hebt, ons extra stevige papier is hiervoor de juiste keus. Omdat deze papiersoort net iets dikker is dan onze stevige papiersoort, schijnen afbeeldingen niet door het papier heen. De extra stevige papiersoort wordt ook vaak gekozen voor de omslag van brochures. Met diverse milieucertificaten - waaronder versterking en beheersing van milieubehoud - is deze papiersoort een milieubewuste keuze voor je prints.
Kenmerken van extra stevig papier
Hieronder vind je een overzicht van de kenmerken van ons extra stevige papier.
| | | | | | | |
| --- | --- | --- | --- | --- | --- | --- |
| Papiersoort | grams | um | beschrijfbaar | kleur  | uitstraling | milieu |
| Extra stevig | 160 grams | 150 um | ja | wit | mat, glad | EU Ecolabel, PEFC, FSC Mix, ISO 14001 gecertificeerd |
Technische specificaties van onze standaard papiersoort: Pro Design 160 grams, gestreken papier, ISO 9706 (bestand tegen veroudering), afdruk is watervast, witheidsklasse 164cie, 96% opaciteit
Het afwerken van extra stevig papier
Extra stevig papier kan je gebruiken voor verschillende luxere printproducten: voor omslagen van brochures, voor het printen van flyers en posters of het binnenwerk van een portfolio. Omdat het papier niet doorschijnt, is het perfect voor de binnenkant van boeken waar veel afbeeldingen in staan. We kunnen extra stevig papier inbinden op verschillende manieren, maar ook afwerken met bijvoorbeeld ronde hoeken. Zo kan je extra stevig papier gebruiken voor elk product dat jij voor ogen hebt!
Veelgekozen afwerking voor extra stevig papier
Onze extra stevige papiersoort wordt vaak gekozen als flyer in combinatie met een coating. Dat zorgt voor een glanzende laag over je drukwerk en een professionele uitstraling. Ook kunnen we extra stevig papier gemakkelijk vouwen tot bijvoorbeeld een folder. 
Vind de perfecte afwerking voor extra stevig papier?
Ontwerp klaar om te printen? Bestel direct