Folding

your prints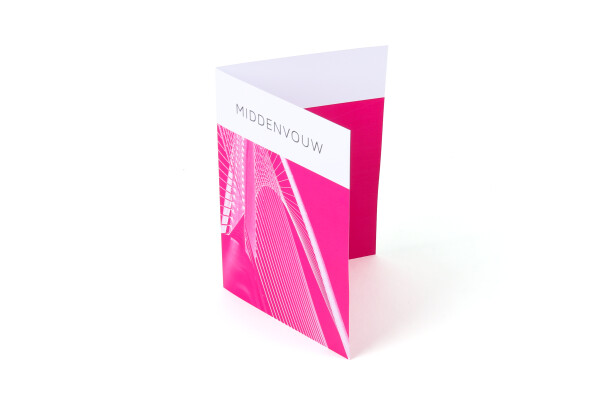 Do you have a document with 4 pages that you would like to have finished to a folded print? With a fold in the middle, your design will look like a beautiful folder or a handy flyer. Choose to have your file folded as folded loose pages or a folded flyer.
| | | |
| --- | --- | --- |
| Min. size | Max. size | Number of pages |
| 60mm x 80mm | 220mm x 310mm | 4 |
Specifications of folded prints
When you order your folded design there are a few specifications you should keep in mind regarding your design and file.
Sizes
As your prints are folded with a machine, there a minimum and maximum sizes for documents that need to be folded. We have a few standard sizes such as A6, A5, A4, and A3, but it is also possible to order a custom size. As long as the size is at least 60mm x 80 mm and not larger than 220mm x 310mm, we can fold your design without problems.
Number of pages
The folding finishing is different from the 'folding and stapling' option, as there are no staples added to your prints. Because of this, it is not possible to order more than 4 pages. Do you have more pages? Then you can consider the folding and stapling finishing, which you can order as a magazine or a brochure.
Document ready? Order your product now!