How do you design a business card?
Do you need business cards but are you not sure how to design a professional business card? With the 5 tips on this page you can design your own business card in no time. Business cards can often be designed online for free, for example on our site. Impress all your customers with your own design business card, easily designed within the style of you business identity. We make designing a business card easier with our tips!
Who will you give your business cards to?
You often give a business card to your customers. So think carefully about who your customers are and what impression you want to give them. In addition, create a business card design that suits you. If you want to appeal to a young audience, use images that appeal to young people and always ensure that your social media channels are on your business card. Do you have a creative audience? Make sure your business card radiates creativity.
What is the margin of a business card design?
Business cards are often small, for example 85x55 mm. To ensure that no important information falls off your business cards when printing, keep a margin of at least 5 mm. Therefore, do not overload your business card with text. Read in the following tip which information is indispensable on your business card.
Which information do you put on your business card?
You always put your name, last name and contact details on a business card. Think about how people can reach you. Can they call or email you or do you have a website? And can your (potential) customers follow you on social media? Put these channels on your business card too. Make sure that the information on your business card does not change quickly, so that your business cards can last for years. Check carefully whether you have all the information on your business card correctly. It would be a pity if you had a large number of business cards printed with incorrect information.
Print your business card on both sides so that you can put extra information on it: for example, place your logo or a striking photo or image on one side of your business card design, and your contact details on the other side.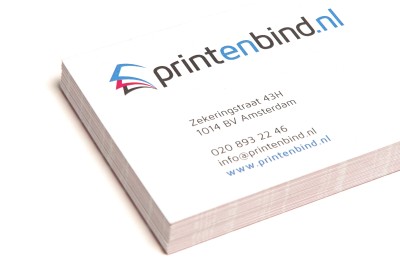 Which colors do you use on a business card?
A business card must stand out, so don't use dull colors. Use bright colors to stand out, but be careful not to use too many different colors in the design of your business card. Do you want to convey a serious message? Use neutral colors, such as dark blue or yellow.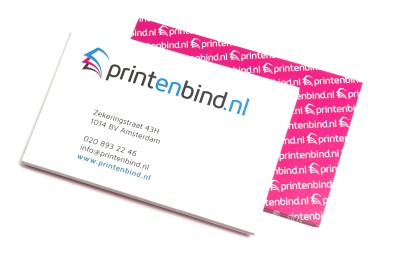 Design business cards for free online?
Do you not have programs such as Photoshop or InDesign? That's no problem! Nowadays, you can design business cards online for free. At Printenbind.nl you can easily design your business cards in the online design tool.
Immediately print your own design business cards online!