180 grams matt poster paper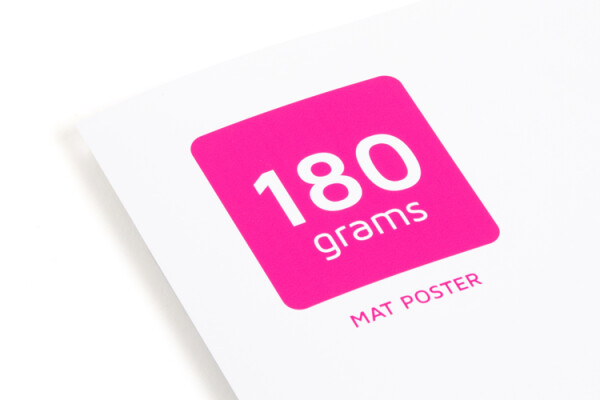 Characteristics of 180 grams matt poster paper
Below you can find an overview of the characteristics of 180 grams matt poster paper.
Hieronder zie je een overzicht van de eigenschappen van het posterpapier 180 grams mat. 
| | | | | | | |
| --- | --- | --- | --- | --- | --- | --- |
| Papiersoort | Grams | Um | Beschrijfbaar | Kleur  | Uitstraling | Milieu |
| 190 grams matt paper | 180 grams | 230 um | ja | helder wit | mat | FSC gecertificeerd |
Eigenschappen: Canon Mat Fotopapier 180grams, helderwit, 230um dik, mat papier. 
What are the finishing options for 180 grams matt poster paper?
Our 180 grams matt poster paper is especially for posters between the sizes 100x60 mm and 841x3000 mm. 
Matt appearance
Due to the matt look of this paper type, it is very suitable for posters that contain large images, as there is very little to no reflection due to light. Therefore, posters that are made with this paper type can be looked at from almost any angle. So if, for example, you want to print art posters, then 180 grams matt paper might be a great choice for you. Would you prefer a slightly glossy look for your poster? That's possible too!
Uses for 180 grams matt poster paper
As was already mentioned, art posters are one of the uses for this paper. When you order such posters on this paper, you can rest assured that your new posters will look great in your house or atelier. Additionally, this paper is very sturdy and therefore does not crease as easily.
Document ready? Order now on 180 grams matt poster paper