Poster matte
Sorry this page is not translated. We apologize for the inconvenience.
Poster 180 grams mat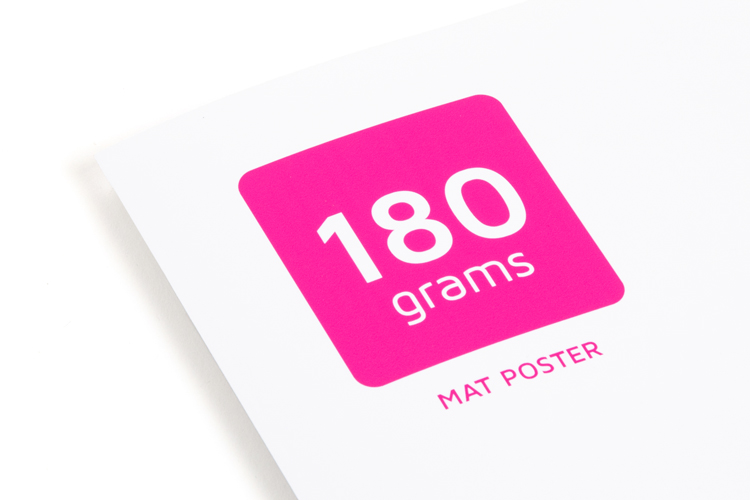 Ons Poster 180 grams mat papier is één van de papiersoorten die wij speciaal voor posters in ons papierassortiment hebben opgenomen. Door het matte uiterlijk van deze papiersoort en de daardoor vrijwel geheel uitblijvende weerspiegeling van licht of zon is deze papiersoort uiterst geschikt voor het printen van posters.
Eigenschappen van Poster 180 grams mat papier
Hieronder zie je een overzicht van de eigenschappen van het posterpapier 180 grams mat.
| | | | | | | |
| --- | --- | --- | --- | --- | --- | --- |
| Papiersoort | Grams | Um | Beschrijfbaar | Kleur | Uitstraling | Milieu |
| Poster 180 grams mat | 180 grams | 230 um | ja | helder wit | mat | FSC gecertificeerd |
Eigenschappen: Canon Mat Fotopapier 180grams, helderwit, 230um dik, mat papier.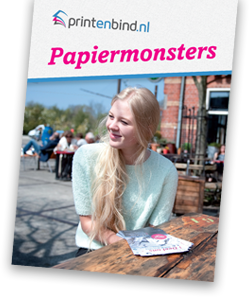 Gratis

papiermonsters

Niet helemaal zeker over de geschikte papiersoort of gewoon benieuwd welke soorten we nog meer hebben? Ontvang een gratis papiermonsterboek via onderstaande bestel knop. Het boekje bevat samples van al onze papiersoorten, sticker- en postermaterialen. Je betaalt alleen voor de verzendkosten! Afhalen kan natuurlijk ook, dit is volledig gratis.
Free

sample book

Do you want to see and feel the paper before you place your order? No problem! Request a free sample book via the button below. In the samplebook all our paper, stickers and postermaterial can be found. You only have to pay for the delivery costs. If you pick it up at our location, it's free!
Hoe kan je Poster 180 grams mat afwerken?
Ons Poster 180 grams mat papier is speciaal voor posters in het assortiment opgenomen en is geschikt voor zowel grote als kleinere posterformaten. De minimale afmeting van je poster moet 100 x 60mm zijn om deze papiersoort te kunnen kiezen. De maximale grootte van je poster kan 841 x 3000mm zijn.
Mat uiterlijk
Door het matte uiterlijk van deze papiersoort leent het zich uiterst goed voor posters die grote afbeeldingen bevatten. Dit is vanwege het feit dat door de matheid van het papier enige weerspiegeling van licht vrijwel geheel uitblijft. Hierdoor kunnen posters die met deze matte papiersoort zijn gemaakt vanuit alle hoeken goed worden bekeken. Laat jij dus bijvoorbeeld kunst bij ons printen, dan is Poster 180 grams mat mogelijk een goede keuze voor jou. Liever een licht glanzende papiersoort voor je poster? Dat kan ook!
Toepassingen
Zoals hierboven geschreven zijn kunstzinnige posters één van de toepassingen voor dit papiersoort. Zo kun jij dus gerust je nieuwe posters voor in je interieur of atelier met Poster 180 grams mat printen. Daarnaast is het papier stevig en kreukt het daardoor ook minder snel. Je kunt je poster dus goed matchen met bijvoorbeeld onze houten poster latjes (LINK).
Meer weten over de afwerking van Poster 180 grams mat?