Pick-up Point Amsterdam-Zuid
Print&Bind is known as the fastest online print shop in Amsterdam. Because we manufacture your order in Amsterdam, and we have multiple pick-up points around the city, ordering your prints online has the same convenience as the 'copyshop on the corner'. In the South of Amsterdam, you can also find a Print&Bind pick-up point!
Picking up your order from Print&Bind
Picking up your order is very easy. Simply mention your name, and you will walk out the door with your prints in no time! Don't way too long, as the location will only keep your order for 1 week. If you place an urgent order before 13.00h, your prints will be ready for pick up the same day after 18.00h!
Ordering online at Print&Bind
The delivery method "pick up at a pick-up point" is not only the fastest option but also the cheapest! For only 1,50 euros, your prints will be delivered to the pick-up point.
Pick-up location Jack Dish
During the summer, the terrace of Jack Dish is a great place to sit in the sun and watch over the renewed Stadionplein. This restaurant is close to the Olympic Stadium in the South of Amsterdam.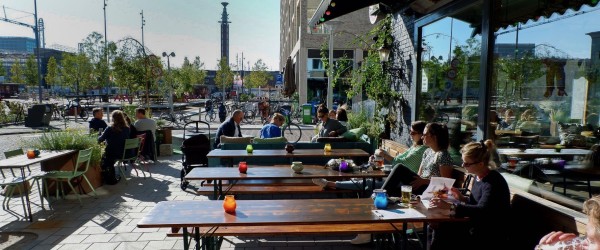 Where do I find this pick-up point?