Pick-up Point Amsterdam City Center
Print&Bind is the number 1 online copyshop in Amsterdam. Because we manufacture your order at our own location in Amsterdam, we can offer quick delivery. With multiple pick-up points in the city, we combine the ease of the copyshop on the corner with the speed of a webshop. You can find one of these pick-up points in the city center!
Pick-up at a Print&Bind pick-up point
Choose the delivery option "pick-up at a pick-up point" to pick up your order at a location close to you! It is possible to have your order ready for pick-up the same day after 18.00h. All you have to do is place an urgent order on our website before 13.00h. You will receive a text message or e-mail when your order is on its way to the pick-up point of your choosing. All you have to do at the location is mention your name. You have one week to pick up your order, but for the location, it is preferable if you pick it up as soon as possible!
Ordering at Print&Bind
The option to pick up your order at a pick-up point is the fastest delivery option we offer! If you live in Amsterdam, there is always a pick-up point at biking distance. At a cost of 1,50 euro, it is also cheaper than regular delivery via the postal service, and often you can even pick up your order the same day!
Pick-up point Cafe Het Paleis
Cafe Het Paleis is a household name in Amsterdam! If you walk from Dam square past the Palace to De Singel, you can't miss this well-known, cozy place.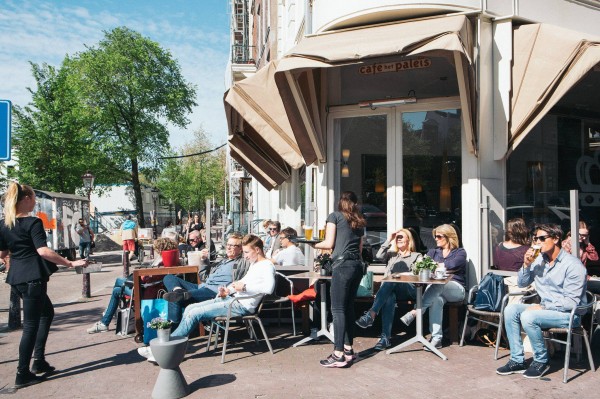 Where do I find this pick-up point?