Print
floor stickers
Would you like to welcome customers in your shop, restaurant or café or show them the way? You can do this quickly and easily with floor stickers. Especially now it is important to remind your guests or customers about the 1.5 meter distance rule. That is why you can print floor stickers cheap online. We supply high-quality floor stickers made of firm sticker material. Due to the extra laminate layer on the stickers, our floor stickers are always anti-slip and durable. Floor stickers can be used on all types of smooth floors. Do you want to replace or remove the sticker? The floor stickers are easy to remove.
The delivery of floor stickers is within two business days by default. Do you want to receive the stickers even faster? Then order urgently and you will receive your floor stickers the next business day.
Document already done? Order here directly
Print your floor sticker in high quality
Floor stickers have to endure a lot and that is why the quality is extra important. Our floor stickers are made of high-quality sticker material and are therefore especially suitable for floors. Thanks to an extra finishing layer (laminate), each floor sticker is anti-slip & durable. Floor stickers are suitable for smooth floors such as laminate, cast concrete, but not for carpet or pavement tiles. The stickers can be easily removed, even if the sticker has been in use for a long time.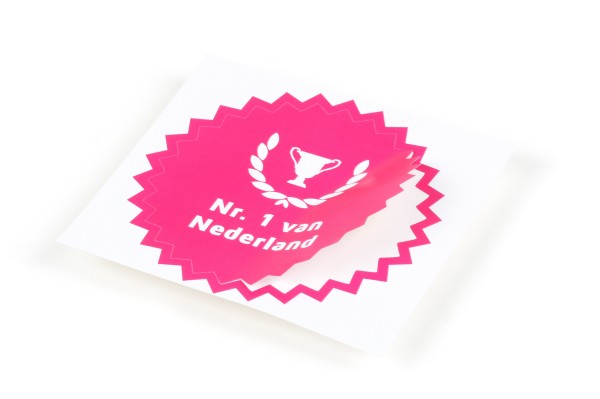 Tip! Next to round, square or rectangle shaped stickers, we can also cut your floor stickers on your self-chosen contourlines (see image, for example). Note that this does require some knowledge of Adobe Illustrator or InDesign. Read the explanation about submitting files for contour cutting of (floor)stickers here (in Dutch).
Printing low-priced floor stickers
Simply upload the design of your floor sticker online. Then choose the size and quantity and we will immediately start producing your floor stickers. Are you unsure about the design of your floor stickers? Then choose extended document check. In addition to our standard check, we also check your file for resolution, margin and the correct finish.
Fast delivery of floor stickers
Fast delivery of floor stickers guaranteed: we will always deliver the stickers within two business days by default. Do you order with our urgently option? Then we deliver the floor stickers within one business day or you can pick up your floor stickers in Amsterdam the same day. Determine where and when your floor stickers will be delivered. You can read more about all delivery options here.