Printenbind helpt mee
Sorry this page is not translated. We apologize for the inconvenience.
Printenbind helpt in tijden van crisis
Vele burgerinitiatieven zijn de laatste dagen en weken opgezet. Ook zien wij dat veel bedrijven geraakt worden door het Covid-19 virus; ook hen willen wij graag een helpende hand bieden. Daarom hebben wij twee verschillende acties opzet, voor zowel burgerinitiatieven en zakelijke klanten.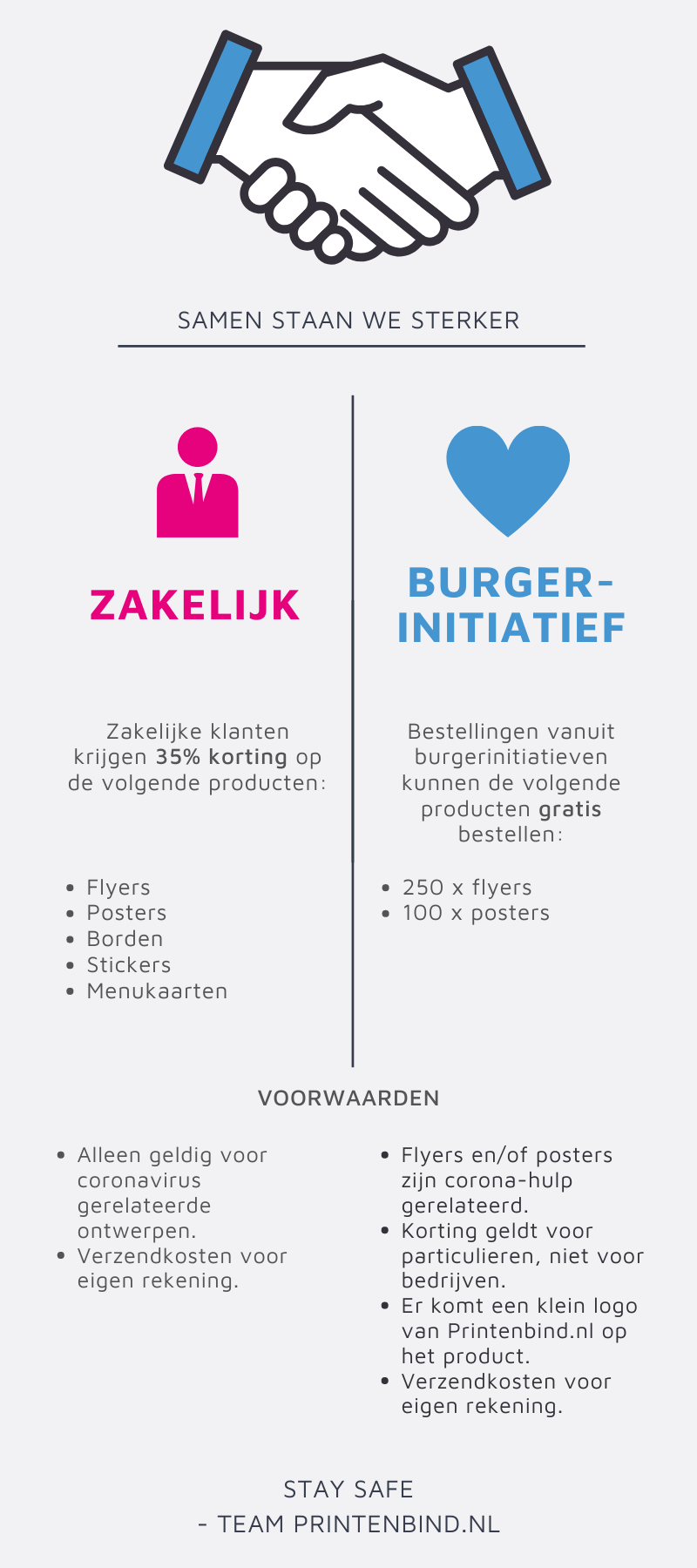 PRODUCTEN BESTELLEN
Het bestellen van producten voor burgerinitiatieven en zakelijke klanten kan via de volgende links waarin de korting zit verwerkt. De voorwaarden voor beide acties staan onderaan de pagina.
Heb je een hogere oplage of andere producten nodig? Neem dan contact op met onze klantenservice: mail naar info@printenbind.nl of bel naar 020 8932246
Grafisch ontwerp
Wij hebben de handen ineen geslagen met Brandformers voor de volgende actie. Brandformers verzorgt grafische vormgeving en webdevelopment. Voor deze actie hebben zij aangeboden om 50% korting te bieden voor een grafisch ontwerp voor flyers, posters, stickers of borden die corona gerelateerd zijn.
Wil jij graag met een nieuwe menukaart of bord laten weten dat jullie nog steeds open zijn en leveren ondanks de corona maatregelen? Laat dan jouw product opnieuw ontwerpen met 50% korting. Met jarenlange ervaring biedt Brandformers altijd een perfect ontwerp. Zo zorgen zij ervoor dat ook in deze moeilijke periode jij het perfecte beeld kunt uitdragen naar je klanten.
Neem voor meer informatie contact op met: info@brandformers.nl of kijk op www.brandformers.nl
Voorwaarden
Voorwaarden burgerinitiatief actie:
De bestelde producten zijn corona-hulp gerelateerd. Flyers of posters die besteld zijn via deze weg en niet hier niet aan voldoen worden geannuleerd.
Deze korting geldt niet voor bedrijven en is alleen bedoeld voor particulieren. Is deze korting toch gebruikt door een bedrijf, dan wordt de bestelling geannuleerd.
Op het product komt een klein logo van Printenbind.nl (zie preview tijdens het bestellen).
Verzendkosten worden niet vergoed, deze zijn voor eigen rekening.
Voorwaarden zakelijke actie:
Mag alleen gebruikt worden voor productie die corona-virus gerelateerd zijn.

Twijfel je of jouw ontwerp hieronder valt? Neem contact op met onze klantenservice.

De korting is niet van toepassing op de verzendkosten.
En natuurlijk voor iedereen: stay safe!
Deze actie is in samenwerking met IMAGO Printing en Brandformers.
Published on 28 March 2020