Ek2020 speelschema
Sorry this page is not translated. We apologize for the inconvenience.
Gratis EK Speelschema op A3 Poster
Op 11 juni wordt het EK2020 officieel geopend in Rome met de eerste wedstrijd. Turkije speelt op vrijdagavond 21.00 uur tegen Italië. Voorafgaand vindt de openingsceremonie plaats. Vóór de eerste wedstrijd wil jij natuurlijk een speelschema op de koelkast, in de gang of boven je bed hebben hangen om de uitslagen bij te houden. Goed nieuws! In elke bestelling die vanaf maandag 31 mei tot en met zondag 6 juni wordt verzonden, tref je het EK Speelschema aan! Leuk voor jezelf, je buurmeisje, neefje, collega, op de koelkast of het prikbord.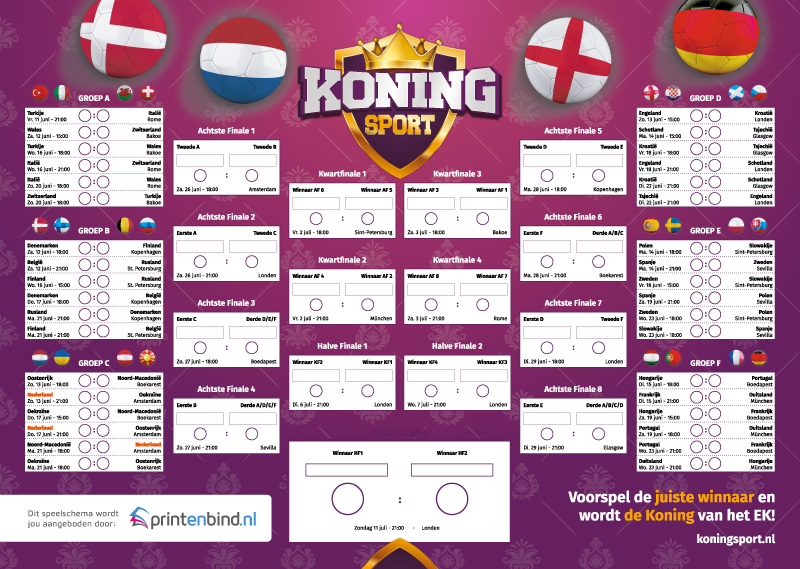 Gratis EK2020 Speelschema bij je bestelling
Printenbind.nl stuurt 7 dagen lang het gratis EK2020 Speelschema van Koning Sport mee. Wij printen deze voor jou op A3 formaat en vouwen deze voor verzending naar A4. Volledig in kleur uiteraard!
Wanneer speelt Nederland?
Voor Oranje begint het EK écht op zondag 13 juni. Deze wedstrijd vindt plaats in de Johan Cruijff ArenA. Het Nederlands elftal speelt dan tegen Oekraïne. Op donderdag 17 juni spelen we in Amsterdam tegen Oostenrijk en op maandag 21 juni staat de wedstrijd tegen Noord-Macedonië gepland. Ook deze wedstrijd vindt in het stadion van Ajax plaats.
Twee oefeninterlands
Voorafgaand aan de poulefase worden er oefeninterlands gespeeld. Op 2 juni speelt Nederland haar eerste oefeninterland tegen Schotland in het Estadio Algarve in Portugal. De tweede oefenwedstrijd speelt het Oranje elftal tegen Georgië in het stadion van FC Twente.
Het EK Speelschema los bestellen?
Wil je geen prints bestellen, maar wel de poster met het EK Speelschema hebben? Dan kun je deze ook gewoon los bestellen.
Download hier het ontwerp
Via deze link is de juiste A3 poster samengesteld
Upload het ontwerp dat je in stap 1 hebt gedownload
Laat je eigen ontworpen speelschema printen
Heb jij zelf een speelschema voor het EK2020 ontworpen? Laat deze dan nog snel printen voordat het EK begint! Je kunt jouw speelschema eenvoudig laten printen op A3, A2 of zelfs A1. Kies voor ons matte posterpapier, dit papier is beter beschrijfbaar.
Published on 26 May 2021