Certificering erkend stagebedrijf hbo en wo
Sorry this page is not translated. We apologize for the inconvenience.
Printenbind erkend stagebedrijf hoger onderwijs
Met ingang van deze maand mag Printenbind zich officieel, erkend stagebedrijf voor het hoger onderwijs noemen. Hiervoor heeft er een audit plaatsgevonden door Stichting ELBHO. Printenbind biedt iedere stageperiode diverse projecten aan waar studenten mee aan de slag kunnen. De stages zijn hoofdzakelijk onder het marketing-communicatie vakgebied te scharen.
Het belang van erkende stagebedrijven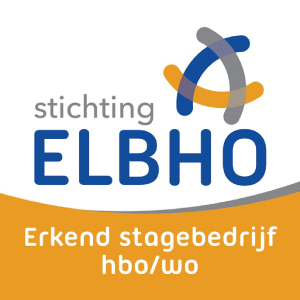 Stichting ELBHO is een onafhankelijk stichting die zich inzet voor de kwaliteit van meewerk- en afstudeerstages voor het hbo en wo. "Ik vind het belangrijk dat een stagiair kan rekenen op een prettige werkomgeving waarin die zichzelf maximaal kan ontwikkelen" vertelt Dominique, marketing manager bij Printenbind. Stichting ELBHO draagt hier met haar certificeringen aan bij en zorgt er mede voor dat "Er is al genoeg waar een student aan moet denken met het regelen van z'n stage. Dan is het wel zo fijn wanneer hij of zij er in ieder geval vanuit kan gaan dat een bedrijf goede begeleiding kan bieden" voegt Dominique daar aan toe.
Je kunt Printenbind hier vinden in het ELBHO Bedrijvenregister.
De audit
Het gaat hierbij om kwantitatieve zaken zoals de grootte van het bedrijf, de beschikbare faciliteiten en het aantal stageplaatsen. Maar ook om de kwaliteit van de stageprojecten en de begeleiding die daarvoor nodig is. De audit kent 2 onderdelen: een telefonische intake en een bezoek van de erkenningsadviseur. De erkenning is vervolgens 3 jaar geldig.
Stages en andere vacatures bij Printenbind
"Wij maken graag ook van deze gelegenheid gebruik om onze vacatures onder de aandacht te brengen. En dan gaat het niet alleen om stages." De marketing-communicatie afdeling van Printenbind biedt diverse hbo stages met de focus op digital advertising, e-commerce en seo/copywriting. Dit gaat om zowel meewerk- als afstudeerstages die zowel dit najaar als de volgende periode in 2022 kunnen starten. Op dit moment is er zowel een grootschalige verbouwing als een hernieuwing van de huisstijl aan de orde. Uitdaging genoeg dus.
Gezocht: Teamleider Klantenservice
Printenbind groeit hard. Met iedere dag duizenden websitebezoekers, honderden bestellingen en inmiddels ook ruim 100 collega's gebeurt er een hoop. Om onze klantenservice verder op te kunnen schalen zijn wij op zoek naar een teamleider die het hoge kwaliteitsniveau van kan waarborgen bij blijvende bedrijfsgroei.
Aantrekkelijke bijbaan voor student en scholier
Vanwege de continue groei zoeken wij ook nog nieuwe collega's in de productie afdeling. Je kunt al vanaf 8 tot 12 uur per week aan de slag. Ideaal voor jongeren die een bijbaan zoeken die goed is te combineren met hun school of studie. Klik hier voor het actuele overzicht vacatures bij Printenbind.